Technology
Learn How to Merge PST Files Without Duplicates
If you want to merge PST files without duplicates, then you are in the right blog post. Here you will find more information about merging Outlook PST data file. You will learn about this method today and after using it you will not have to go anywhere. Let us now know how to combine Outlook PST file without any data loss. But before that, let's also look at user queries.
User Query;
My Outlook application suddenly stopped responding. Since I have a lot of important data in my Outlook account, I can't lose it. Outlook application is not working properly. Some of my email and calendar contacts are saved in these folders twice. I want to concatenate multiple Outlook PST files and remove duplicate files, but I didn't find any reliable solution. The main problem while merging these Outlook files is to remove the duplicate files. Please suggest me any good way to do this so that I can do this task easily.
If you too are plagued by any of these problems, now you don't have to worry at all. In this blog, we will tell you a good solution to merge PST files manually or automatically without duplication. Read the blog to the end to find the step by step process.
How to Merge PST Files Without Duplicates
There are two ways to combine Outlook PST data File in Outlook
Manual  Method
Automatic method
Manual Approach to Combine Outlook PST File Without Duplicates
The manual method is a two-step process. First you need to create an "Empty PST", then merge the old Outlook PST into a new one. Let's discuss step by step.
1# Create a blank PST
You can create a new blank PST file by following the steps mentioned below:
Launch the Microsoft Outlook window, select New Item, then the More Items option
After that, now click Outlook Data File
You will get the desired location option to save the new blank PST and enter the desired name
Finally click the OK button
Now, move old PST to new PST
2# The next step is to transfer the PST file you have created to the new one. To do this, follow these steps:
Follow the steps mentioned below to complete the task of merging Outlook folders with your email, contacts, and calendar, and without any repetition.
Open your Microsoft Outlook again and go to the File menu
Select the Open button, then select Import
Now, the import and export wizard will appear. Click to import from another program or files
Click the Next button
Select the file type to import from the Outlook Data File (.pst)
Click Next and browse to the file location for the allow Don't Import Duplicates option to avoid creating duplicate emails, calendars, and contacts
Now, click the Next tab
After that, select the folder to import
Open the checkbox to enter subfolders and import items in the same folder
Finally, click the finish option
Automated Solution to Merge PST Files Without Duplicates
Use the Free PST Merge Software to merge PST files into one file without duplication. The software comes with a simple user interface that beginners can easily access. It allows users to remove duplicates using the "Skip Duplicates" option. Users can simply combine or remove duplicate data items in Outlook. You can also add Outlook email, calendars, tasks, notes, and journals to Outlook 2019, 2016 and all versions below.
The most important thing we want to tell you about this software is that it is the easiest to use and the most reliable. It is very effective as it saves a lot of time. Yes, you will not have to spend much time to complete the task. 
It has many additional features to make accurate conversions. The best thing about this product is that it comes with a free demo version, which allows customers to better understand how it works before buying it.
Complete Guide to Merge PST Files Without Duplicates
First, Download  PST  File  Merge Tool on your Windows compatible device
Now you need to Add PST File or Folder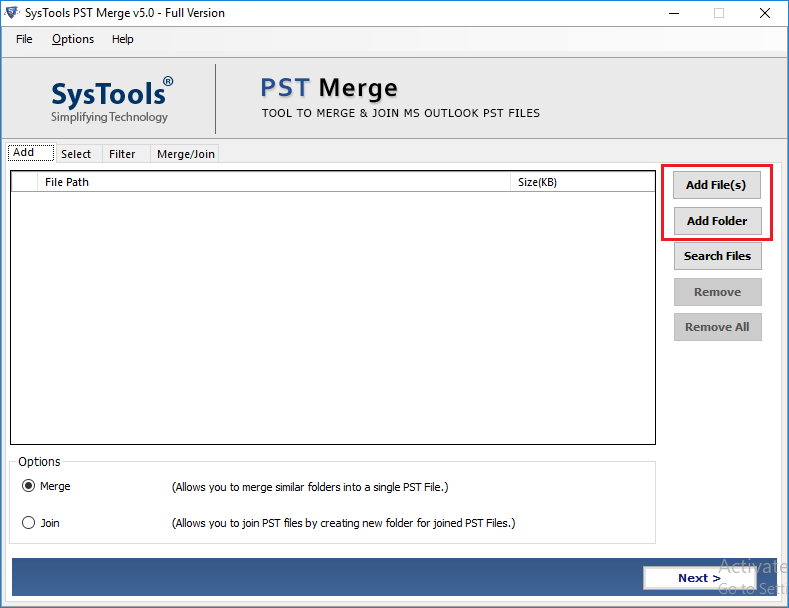 Here, you need to Select the "Merge" button
Check the Skip Duplicates box and select the criteria to remove duplicates
Click Next and get the merged data from your Outlook folders, without duplicates.
Read More: Customizing Your ERP
Conclusion
In this article, we discuss the whole process of combining PST files without data loss. The software is reliable and profitable. The user does not need any technical knowledge to perform the process. It is a special application that allows the user to maintain data integrity throughout the task. So, download this reliable tool and merge PST files Without Duplicates effortlessly.